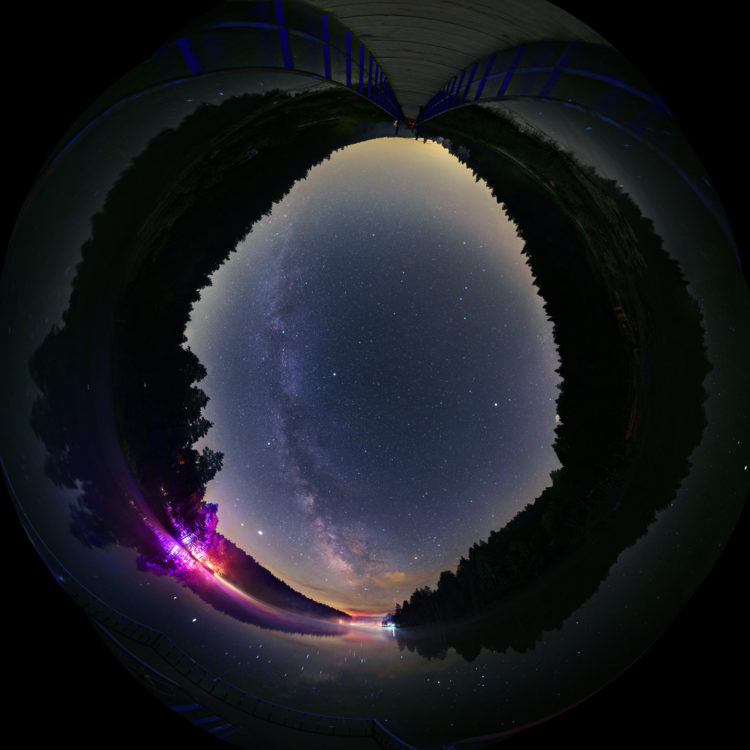 Description
A 360-degree spherical panorama. Bozcaarmut is a favourite location of mine nearby, a boreal forest with a picturesque reservoir about 100 km to the east of Bursa. I had planned to visit in May 2020, but the pandemic restrictions and weather went in the way.
Restrictions were partly lifted in June, and this was the first night with clear skies and no moonlight. I prefer going to this location on weekdays, as less people turn up for fishing, barbecuing, camping. But this was a last minute Saturday trip. It was crowded with numerous campfires, lamps, flashlights here and there. Also present was some mist moving over the lake, mixed with campfire smoke.
Right upon arrival at midnight, I went up to the walkway of the reservoir and shot this all-sky panorama, catching stars above the horizon and their reflections in the water. Those lights oozing from the forest seemed like a nuisance, but they turned out to be just fine. Then I covered the higher sky with the bright summer Milky Way, completing this summer night experience.
Info
---