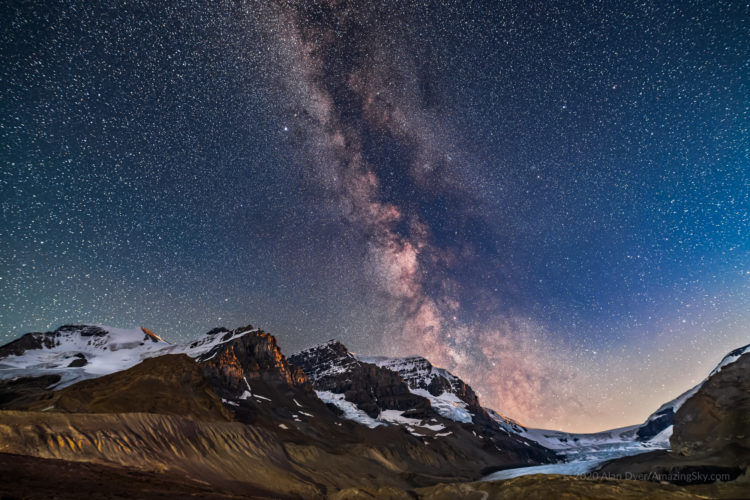 Description
The Milky Way and galactic core area over Mount Andromeda (centre), Mount Athabasca (left) and the Athabasca Glacier (right) at the Columbia Icefields, on a very clear night July 27, 2020.
I shot this as the waxing quarter Moon was still up but behind Snow Dome at far right, and about to set. Warm low-angle moonlight illuminates the peaks at left with "bronze hour" lunar alpen glow, and brightens the sky at right, plus adds the blue tint to the sky. But in the clear mountain air, the Milky Way and its starclouds still show up very well. The constellations of Aquila and Scutum are at centre.
This is an exposure blend of 4 x 1.5-minutes, untracked at f/2 at ISO 1600 for the ground, followed immediately by 3 x 1.5-minutes at f/2.8 and ISO 3200 for the sky, with the sky exposures tracked on the iOptron SkyGuider Pro tracker. All with the 20mm Sigma Art lens and Canon EOS Ra, with the lens adapted to the camera with a Metabones adapter.
Info
---