TWAN Celebrates its Fifth Anniversary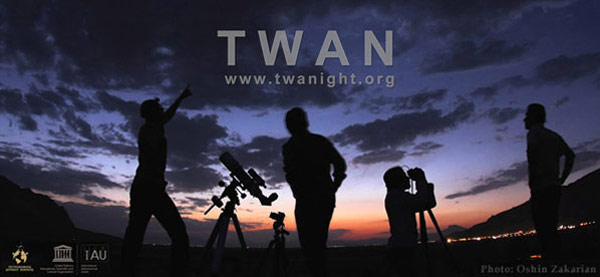 Five years ago, on December 25, 2007, The World at Night's website was launched and publicly announced on NASA's Astronomy Picture of the Day with an iconic nightscape image of Monument Valley . Although TWAN was founded a year earlier, and work was continuing behind the scenes, it wasn't until the website's launch that the project was publicly announced. The news quickly spread around the world among astronomers, photographers, and travel enthusiasts. The global effort brought together a team of photographers that has since been documenting the beauty of the night sky above landmarks worldwide, reclaiming a treasure of nature that has been lost to the majority of today's human population because of light pollution.
TWAN reached millions of people during its first five years through exhibitions, presentations and workshops, and via local and international media in more than 30 countries on 6 continents (see selected reports in TWAN News, and a list of TWAN events). The website received more than 11 million visits from 200 countries and territories, becoming one of the world's most popular online astronomy outreach sources. The project imagery also introduce the importance of night sky from the perspectives such as art, culture, and history. TWAN's reach has also been expanded through books (now in German, Dutch, and Japanese) and through close collaboration with well-known partners including Sky&Telescope magazine, National Geographic News, and Astronomy Picture of the Day (APOD). Some 160 photos and timelapse videos created by TWAN members have been featured as APOD in the past five years (see a selection in TWAN APOD gallery).
TWAN workshops and other educational programs are also organized in an ongoing efforts to promote landscape astrophotography. Thousands of photographers in several countries have participated in the programs, which inspired them to capture the beauty of night sky above landscapes in their own areas.
The World at Night idea was the brainchild of its founder, Babak Tafreshi, but it became a reality when the program's parent organization, Astronomers Without Borders, was formed by Mike Simmons in 2006. TWAN became the first project under the umbrella of AWB, a close partnership that continues to this day. Selecting from among the world's most accomplished landscape astrophotographers, candidates from various geographical regions were invited to join the TWAN team beginning in the spring of 2007. Some had already been practicing this style of photography for more than 40 years, many also seeking to send a message of the universal nature of the night sky in their work. By September 2007, the first group of 15 photographers were communicating on a daily basis, enriching the program through the knowledge they had gained through decades of experience and transforming TWAN into a unique globally-accessible source of Earth-and-sky photos. At the time of website's launch in December 2007, the TWAN team included more than 20 members. Just two months later, in February 2008, TWAN became the first Special Project of the International Year of Astronomy (IYA2009) by UNESCO and the International Astronomical Union (IAU). IYA2009 also promoted TWAN, publicizing the many events held at venues around the world.
The TWAN team now includes 35 photographers in some 20 countries, with a dozen of volunteer consultants and event coordinators in various regions. The TWAN team of photographers continue to grow as members vote on new candidates for the team each year, but only one or two new members are invited to the team annually. Candidates often come from their participation in TWAN activities, such as active contributors to the TWAN Guest Gallery or winners of the annual TWAN photography contest. New members are announced early each year, and 2013 is expected to bring news of a new member who will add to TWAN's diversity of styles and talents from a completely new perspective.
The TWAN website will be also see major improvements in 2013, besides new functionality to be added monthly. TWAN web designer Shahob Saqri, who shares a passion for astronomy with the rest of the TWAN team, is preparing a new website design and structure. TWAN's online home will be redecorated for 2013, with more accessible sections and image galleries.
---