International Nightscape Conference 2015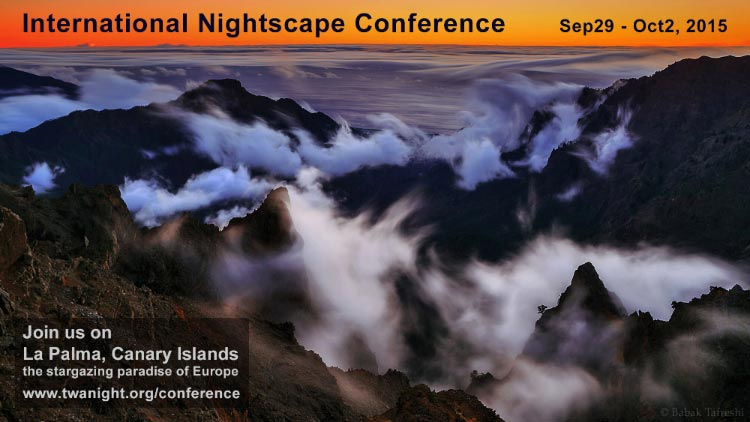 The first of its kind Cabildo Insular de la Palma (The island Council), and Nightscape Conference is an initiative by The World at Night (TWAN) program to bring together photographers and other artists who focus on the night sky, our planet night environment, and the connection of the two. The 2015 conference takes place from Sep 29 to Oct 2 hosted in La Palma, Canary Islands – Spain, in collaboration with La Palma Tourist Board, Cabildo Insular de la Palma (The island Council), and AstroLaPlama (a regional astrotourism leader). The venue is the delicate historic theater of Circo de Marte in Santa Cruz de La Palma, the main town on the island, near to the
international airport.
Why La Palma
Since 2013 La Palma became a TWAN partner in developing nightscape photography programs started with the annual Astromaster workshop. With stunningly diverse landscapes, the world's largest erosion caldera, and many preserved areas, La Palma is an Atlantic Ocean paradise for hikers, night sky enthusiasts, and explorers of pure nature. The 2400-meter high caldera top of the island is regarded as Europe's best stargazing location, standing above the low ocean clouds (See TWAN gallery of La Palma's stunning night sky). There are also strict rules to minimize the light pollution in the island to protect the night sky and future of the major research observatory on the Roque de los Muchachos peak. While kept relatively unspoiled by tourist flooding due to sustained ecotourism programs, La Palma is an easy destination to reach within the European Union (and Schengen Area) with direct flights from several European major airports such as Madrid, Amsterdam, Berlin, Frankfurt, Brussels, and London. Its also well connected (by ferry and plane) to the larger airports on the neighboring islands of Tenerife and Gran Canaria.
Two Weeks of Astronomy (Sep 25 – Oct 9)
In 2015 several programs are joint to form the first La Palma Astrofest. The festival begins with the International Astrotourism Conference on September 25 – 27, another first of its kind initiative that launches on the island to create interaction opportunity between travel experts, tourism boards, scientists, and environmentalists who are involved in astrotourism, a blooming branch of ecotourism where travelers look for the starry skies and the Milky Way, chase celestial phenomena such as solar eclipses, aurora, and great comets, or explore astronomy-related monuments and landmarks.
On the night of September 27-28 a majestic total lunar eclipse takes place, visible from La Palma on the early morning of September 28. The attendees will enjoy the eclipse from a dark protected area with telescopes and side activities.
After the Nightscape Conference (Sep 29-Oct2), the week-long Astromaster workshop takes place on October 3 – 9. This annual TWAN international workshop on nightscape imaging, timelapse photography, and image processing techniques includes a brief beginner introduction and then medium-level to advanced lessons and outdoor practices. One of the most successful TWAN workshops the event attracts night sky fans and both professional and amateur photographers from across the globe (see the workshop program and registration).
Conference Sessions and Discussion Topics
The conference is aimed to carry educational discussions on:
– Definition of Nightscape and Astrophotography
– Methods and Photography Techniques
– Timelapse Revolution
– Equipment Guide, Low-light Photography Gears
– Editing Limits, What is Real and What is Fake
– The Business of Nightscape Photography (Professionals vs Amateurs)
– Hidden Challenges
– Dark Skies and Light Pollution
– Science of Nightscape
– Earth and Sky in Art and Literature
– Astrotourism and Nightscape Artists

– Wildlife and Volcano Photography at Night
– What TWAN is and Should Be
Speakers
The conference is open to oral presentation submission and unconference discussion topics. It is organized mainly as a meeting opportunity for nightscape photographers. Please submit ideas and presentation abstracts to
info@twanight.org.
Besides accepted submitted presentations, TWAN founders and members from across the globe will participate and speak at the event. Many TWAN photographers (https://twanight.org/photographers) are pioneers in various aspects of nightscape photography. Visit the conference speakers page for updated list of the lecturers.
Registration
Please visit the LaPalma Astrofest website astrofestlapalma.com for more information and all the options or go directly to this page for the nightscape conference registration. Participants of the Astromaster Workshop or the Astrotourism Conference pay almost half price (150 Euro) for the nightscape conference fee.
Sponsorship and Partnership

The Astrofest and the nightscape conference is open to new partnerships with the related organizations and businesses. There are promotional opportunities for the sponsors on the conference webpages, in the exhibition area of the events, and during the conference sessions. Please contact us at info@twanight.org.
————————————————————–
About Nightscape Photography, by Babak Tafreshi*
In many ways exploring the night is similar to an adventure trip to an unseen cave, or reaching the top of mountains where only few have experienced the amazing vista. It's a challenge with the same taste of adventure. During the past 2 decades nightscape photography developed in me from a teenager hobby to a professional skill and an international program to show the world at night (TWAN program, founded in 2007). Nightscape photography is not only about recording a part of the outer space or our environment. It leads you to a life of adventures. It becomes your lifestyle. You start working when "normal" people enjoy parties, watch TV, and sleep. But like the explorers of new worlds you will be gifted by unique experiences to share with others. Some scenes are forever-engraved moments in my memory. From the boundless darkness of the African Sahara when the summer Milky Way was arching above giant sandstones to the shimmering beauty of the Grand Canyon under moonlight, or heavenly curtains of dancing aurora in all colors over Lapland, and crystal clear skies of the Himalayas.
Nightscape or Starscape photography where the Earth and sky are framed together with an astronomical purpose is also known as "Landscape Astrophotography". These images resonate with viewers on an instinctive level and they spark the imagination. Familiar landmarks provide a context viewers relate to, even among city dwellers who have never gazed in wonder at the natural starry sky. Thanks to the fast developing technology of DSLR cameras starting nightscape photography is now very easy. But some knowledge about night sky and practical astronomy is essential to plan, in order be 'in the right place, at the right time.' Planning is based on ideal weather and moonlight condition. Factors such as geographic location, altitude and temperature, local topography, and light pollution must be considered in preparing for a photo shoot. Many things can go wrong at night with equipment and environment. Inform someone about where you are going. Avoid doing night photo shoots alone in remote locations. Being in a small team of two or three is the most pleasant, and larger groups cause issues such as too many tripods, similar image results, and moving flashlights in your photos. Arrive at locations before sunset. Get familiar with the environment and obstacles around you. Always consider unpredictable issues with accessibility, wild life, government restrictions, and public unawareness of a friendly sky photographer who might be mistaken as a wandering vampire or a lost alien with a 'red laser' coming out of the head! You are then in the worst place at the wrong time. Such risks are much less when you arrive at the site earlier in the day. I have encountered security and police many times in my night shooting around the world, but usually it ends up being a fun stargazing class under stars for the officers.
Another challenge is how to create a natural-looking image. While the color of day-time nature is evident most photographers are not familiar with natural colors of night sky and often shift white balance or apply saturation in extreme ways that change the rules of nature! A general example is the post processing attempt to remove red cast of light pollution or the natural airglow which results in saturated blue Milky Way while it should be from Yellow (specially towards the galactic bulge) to almost colorless and pale-blue (in areas with rich young star clouds). To those who are familiar with natural night sky colors these changes look as odd as seeing a blue lion or purple giraffe! I also recommend avoiding the habit of 'over-cooked' processing. Nightscape imaging is a part of nature photography where the originality of the scene and the story is a value. Composite images made with different lenses and exposures or a montage of day-time and night-time frames has their own value in digital art but they are usually not recognized as an actual photograph.
Naturally we are not a nocturnal species and all through our ancient cultures outdoor night is presented an unsafe environment of mysterious or a dead world. Nightscape images show the real hidden beauties of night. It is perhaps best described by this Persian proverb: Night hides a world but reveals a universe.
—————————————————————————————————————————–
* Wrote originally for the National Geographic website. Babak Tafreshi is a freelance photographer (and science journalist) working primarily with the National Geographic image collection. He is the founder of The World at Night (TWAN) and a master of nightscape imaging. He does workshops and talks internationally.
---