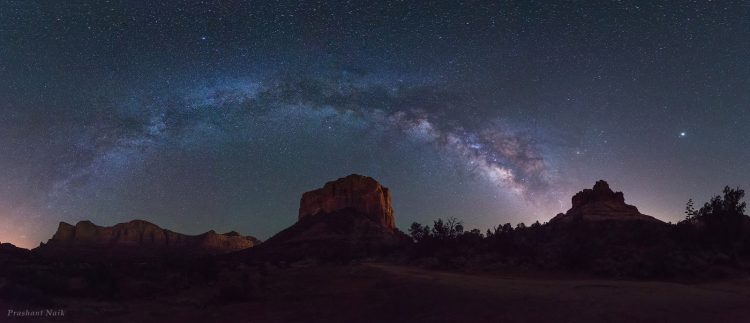 Description
From the photographer: "They say Arizona is a paradise for astro photographers. Flying high on the wings of anticipation, I have never been this sanguine about photographing the Milky Way. It's like a muse for me…a Musa Galactica, if one were to call it that. And so it began, my dark night adventures in the West.
At Sedona – without knowing where the Milky Way would line up at this time of the year, I started wandering in the Coconino National Forest perceiving what would be the best composition. Somewhere down the Bell Rock Trail, I was spellbound at the spectacular sight of the Sky River rising in between Courthouse Butte and Bell Rock. All the stars suddenly appeared closer than ever before. The Aesir welcomed me and I stood there for hours contemplating how the Gods made this place look like heaven and how fortunate I was to witness this spectacular event unfolding right in front of my eyes. It was like meeting a long due dream. A Galactica Dream to savor."
Technical details: Panorama – 12 vertical images shot with Nikon D810 using Nikkor 14-24mm at 14mm. Exposure 15s at f2.8; ISO 8000. I used Lightroom photo merge to create the panorama.
Info
Photographer: Prashant Naik
Location: Arizona, USA
Date: 2018, Jun 09
---